Town Hall Meeting to discuss Invest in Kids Act and future of Tax Credit Scholarship Program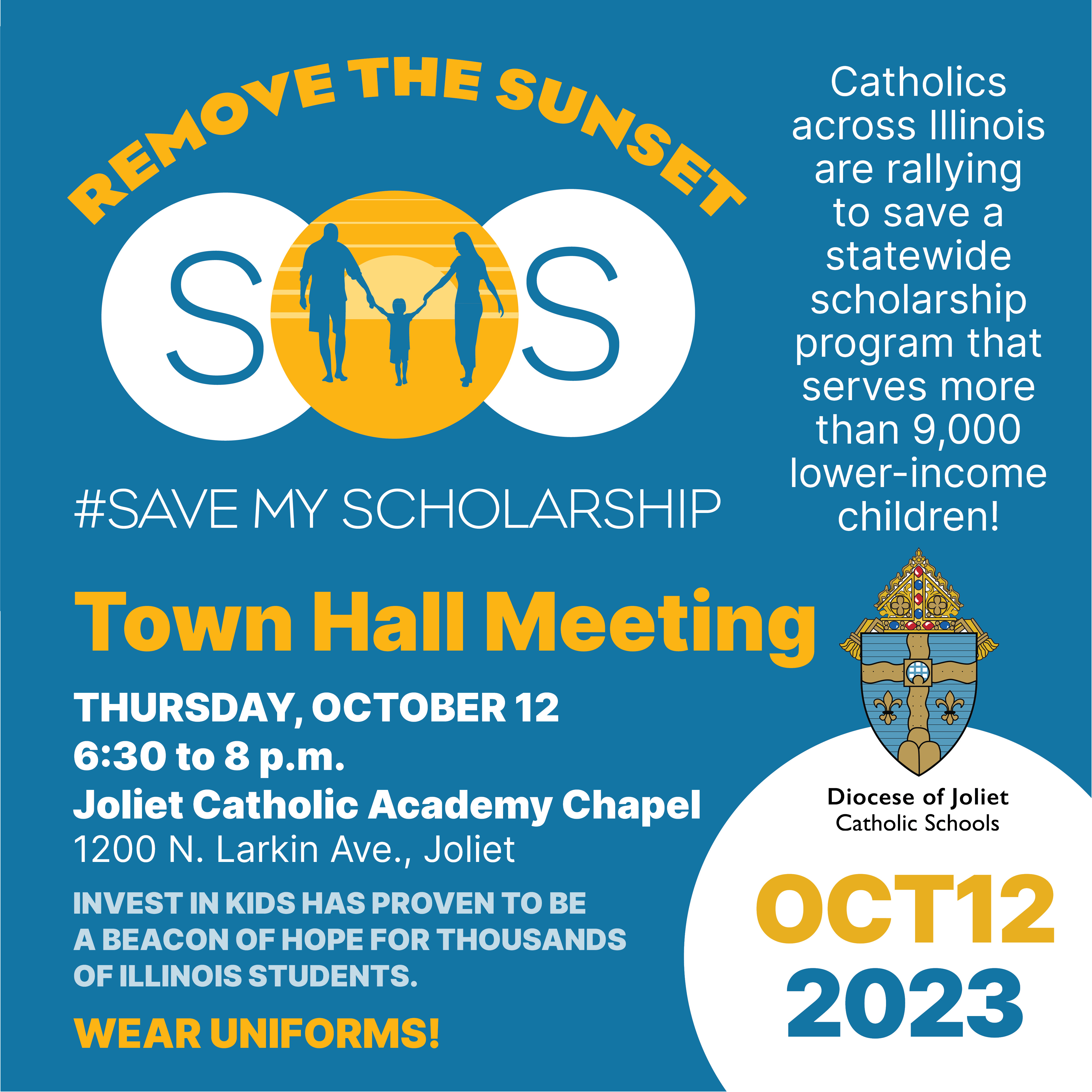 Catholics across Illinois are rallying to save a statewide scholarship program that serves more than 9,000 lower-income children. A town hall meeting sponsored by several schools in the Diocese of Joliet will be held on Thursday, October 12, 2023, from 6:30 to 8 p.m. at Joliet Catholic Academy's chapel in Joliet (1200 N. Larkin Avenue).
Invited panelists include Representative Natalie Manley (98th District), Senator Meg Loughran-Cappel (49th District), Senator Rachel Ventura (43rd District), Representative Harry Benton (97th District), Representative Dagmara Avelar (85th District) and Representative Larry Walsh (86th District).
The Invest in Kids Tax Credit Scholarship Program was passed in 2017 as a pilot, but the Illinois legislature adjourned its spring session without extending it. The pilot window will sunset by the end of 2023 unless legislators reauthorize the program.
"Beyond the scholarships awarded," says Diocese of Joliet Superintendent Dr. James Quaid, "the families who applied for a Tax Credit Scholarship have highlighted the importance of Catholic education for thousands of families in the diocese. Children only get one chance at a great education, and for many families, Catholic education provides that opportunity."
According to a statement recently released by the Catholic Conference of Illinois, and signed by six bishops in Illinois, Invest in Kids has generated overwhelmingly positive results since its inception six years ago. Nearly 40,000 scholarships have been awarded to students attending non-public schools across the state. And demand is very high—for each scholarship granted, three students are turned down due to lack of funds.
"Invest in Kids has proven to be a beacon of hope for thousands of Illinois students and their families," reads the letter signed by Illinois Catholic bishops. "This is our one chance to offer these Illinois children a good start. Please help keep education options available and a brighter future possible by contacting your state senator and state representative and telling them to continue the Invest in Kids Program."
According to the Catholic Conference of Illinois, the pilot program's success is illustrated by four key points:
Tax credit scholarships support families with demonstrated financial need. One hundred percent of families qualify based on their income, with nearly 70 percent of recipient families eligible for the Federal Free or Reduced Lunch Program. The average family income for all scholarship recipients is just over $40,000.
Tax credit scholarships serve a diverse population. Sixty percent of scholarship recipients are racially/ethnically diverse students, higher than the percentage representation in Illinois public schools.
Tax credit scholarship support and family demand remains extremely high. For every one child who is fortunate to be awarded a scholarship, five more children are on a waitlist hoping to receive a scholarship, too. Additionally, 97 percent of participating families are satisfied with the program.
Tax credit scholarships are popular with voters. An ARW Strategies poll showed that 61 percent of Illinois voters approve of the program, including 67 percent of Democrats, 71 percent of African Americans, and 81 percent of Hispanics.
Attendees of the Town Hall will learn more about how the Invest in Kids Act has helped families choose the best educational opportunity for their children. Catholic school students are encouraged to attend with their parents and to wear their school uniforms. Register to attend here: https://conta.cc/3PBzxaI
Diocese of Joliet schools hosting the event include:
Illinois constituents can visit the Catholic Conference of Illinois website or call the Springfield office at (217) 528-9200 for further information on how to locate elected officials, request sample wording for a message to a legislator, or for information about how to donate to this program.
Social Media Graphic (right-click image in pop-up window to save)